Google has recently upgraded a new feature in your Inbox. Now, you got 30 seconds to undo an email, which you might think is inappropriate to send. Once you have clicked the "send" button, Gmail will hold your outgoing email for a short period between 5, 10, 20 and 30 seconds, giving you time to hold back the email.
Many times, we come across a situation when we think we made a mistake while sending an email. The mistake can be a wrong email id (which can sometimes be embarrassing), wrongly spelled words or you though the entire sentence should change. Now, this feature will definitely help us revoke an erroneous email and save us from a possible embarrassment.
However, you will have to activate this feature by yourself. Since by default, Gmail has disabled this feature for you.
How to "Enable Undo Send" Email in Gmail
The feature lies in the Gmail setting itself. Once you have logged in to your Gmail account, look for the gear icon at the right to corner of your Gmail. Click the down arrow and choose the Settings option.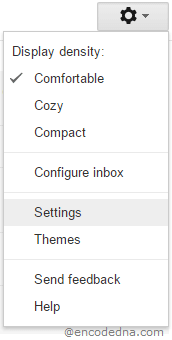 Once you have opened the Settings window, choose the General tab (which is the default tab), scroll down, and look for Undo Send: option, with "Enable Undo Send" check box. Click the check box and don't forget to select Send cancellation period: (in seconds) option (See image).

You will have to save the changes that you have just made. Scroll further down at the bottom, you will find the Save Changes button. Click and save your new settings.
Test the Undo Feature
We are now ready to test this new feature from our inbox. Compose a new email and click the "send" button. This time it will show you a message on the top saying the Your message has been sent. Along with an added option called "Undo". Click the option to revoke the send email. However, if you do not click the option for the set time (remember its in seconds), it would automatically send the email and remove the Undo option from the message.

Hope this new feature will be helpful. Thank you Google and thank you all for reading.