How do you choose, which hosting company or service is best for you? Which company provides the cheapest and the most reliable hosting service? It is difficult to get a quick answer. Especially, when you know that you have to choose one out of many web-hosting companies, each offering something unique. Whether you are a web developer, designer or simply a blogger (like me), I am sure you were in a dilemma at one point of time, asking yourself where to host the website, which company offers a better platform and service and most importantly, at what price. Here in this post, I'll tell you why I recommend Bluehost to my readers and how to get the best of web hosting using Bluehost (Shared hosting) services.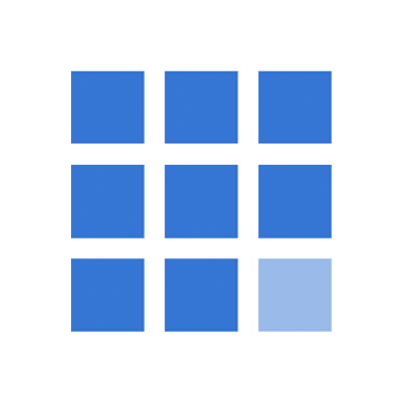 Note: I am an affiliate partner with Bluehost. I have recommended Bluehost to my blog readers and other clients and honestly, their experience with bluehost was pleasant. Their feedbacks in the past have encouraged me to write this article.
Bluehost is not a new name. The company came into existence way back in 2003. That's a very long time and now it's reckoned as one of the best web hosting company in the world. However, it has faced many difficulties in the process to become #1. They have overcome every obstacle. Now, the company has one mission, to give better service to its clients, small or big, bloggers, e-commerce, website owners etc.
Note: If you are using WordPress to build your blog, then I would strongly recommend using Bluehost to host your blogs. They allow their clients to install multiple blogs on the same hosting package. You can save lot of money. Bluehost servers are optimized to handle multiple WordPress blogs at a time and it takes approximately five minutes to install the blogs on their servers.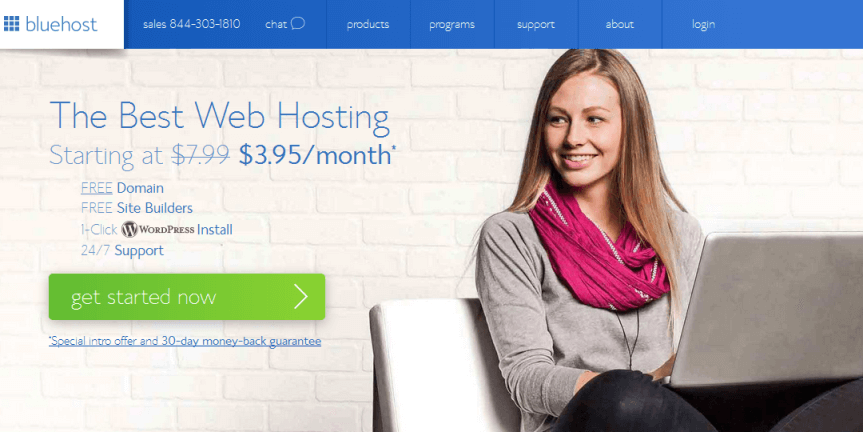 Web Hosting Plans
Bluehost provides a wide range of hosting plans other than shared hosting. It provides high performance dedicated and VPS (Virtual Private Server) hosting. They have kept the prices very competitive. You can check with other hosting services in these space.
You can opt for the dedicated hosting plan. Dedicated hosting is where they park (or host) your website on a dedicated server (a complete server for you), unlike a shared server (where many websites share a single server).
If you are looking for a private space for your website, then you can select a VPS hosting plan of your choice. The advantage of using VPS hosting is that they reserve a small portion of the server, exclusively for you. You get more speed and flexibility and at the same time, you get to handle your websites efficiently.
Bluehost also offers a reseller hosting plan to anyone who is interested in running his or her own web hosting business. It provides a reliable and powerful platform with all the necessary tools to help you sell products directly to your customers. This is simply great.
However, if you are just a blogger or have a personal website to host, then I would recommend using Bluehost's shared hosting plans. These plans are affordable, but are not at all cheap. However, with unlimited bandwidth and storage, these are some of the best hosting plans available today. See the prices below. (Click the image to view full)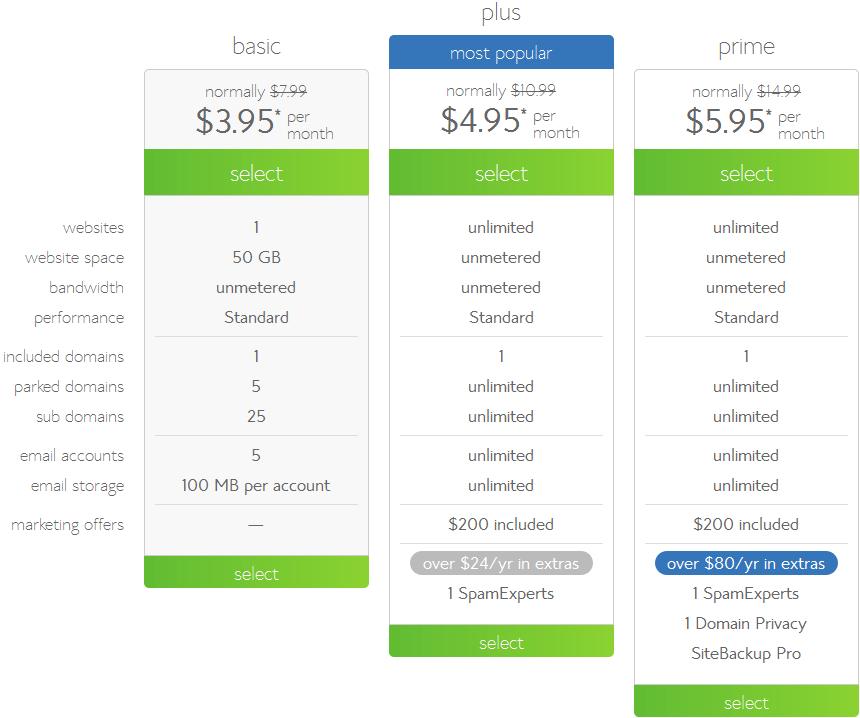 In the above image, you can see the various plans that bluehost offer in their shared hosting package. I would honestly recommend the most popular plus package, if you are planning to host more than one website or blog with bluehost. Along with multiple websites, you also get unlimited bandwidth and email storage. They have reduced the prices and it's a limited time offer. It will not last forever. You can pay via Paypal or using a credit card. So hurry and grab your package now.
Signup now to avail this offer
The starter package is good for those who opt to host a single website or blog. However, at any time you change your decision and opt for their sophisticated hosting plans, such as, a VPS or dedicated hosting, you can upgrade your plan by using bluehost cPanel.
cPanel Interface
A cPanel is a website control panel, which allows users to manage their websites, email services etc. with ease. Every big name in the business of web hosting today, uses the cPanel. It's one of the most reliable and easy to use interface, which provides HTML to edit your blog or website, manage databases, text editors and other graphical interfaces to help manage your resources easily.
Bluehost Security Options
One of the most important aspects of web hosting is Security. You cannot compromise on this factor. You want all your web assets to be safe. Bluehost do not compromise on security either. It offers tools that would help safeguard your website or blog materials hosted on their server and keep other risks at bay.
Email spam is a nuisance. Bluehost provides a tool called "SpamExperts" with its "plus" and "prime" package, to keep your emails spam free. You will also have access to SSH or Secure Socket Shell.
You can block a person from visiting your website by using their IP address-blacklisting tool. It will block IP addresses in case of DDOS attack (distributed denial of service -- Source: Wikipedia). This is the primary reason (they have claimed) for a minor downtime recently, when their servers were attacked by multiple systems. They use CloudFlare, which helps prevent these kinds of attack.
Overall, it's a very safe place to host your website (blogs etc.).
What else does Bluehost offer?
Bluehost packages come with many useful features. Some of their features are,
1) You'll get a free domain name
2) You can host unlimited websites. I have mentioned the plus package above.
3) Unlimited space and bandwidth
4) Easy to use, one click automatic WordPress installation
5) Unlimited Email account (plus package)
6) Excellent performance
7) A very decent uptime, hence Reliable and Stable. Read this analysis report.
8) Good 24/7 customer service
9) 30 days money back, guaranteed (with no penalties)
Bluehost Customer Support
Bluehost's customer service is excellent. You can chat with one of their customer care executive, Live. You can email them your issues and grievances (if any) and get an immediate response. Occasionally, they might take a little longer than usual to respond. However, they positively respond to every query (ticket) they receive.
If you live in the US, you can use their toll free number and call them anytime of the day, 7 days a week. You will get a much quicker respond if you call them.
Conclusion
With 2+ million users worldwide (and growing), bluehost definitely looks a better bet than any other hosting company. Don't take my word for it. Their 30 days money back offer seems good to try it. Host your website or blog using their shared hosting plan (plus package for $4.95 per month). At any time within the first 30 days period, if you do not like their services, you can cancel the account and get your money back.
Try Bluehost for $3.95 per month
Now you know what's good for you. I am hoping that this review post will help you decide where to host your website.